Single supplement waived on the cruise portion of select 2018 Avalon Waterways Europe river cruises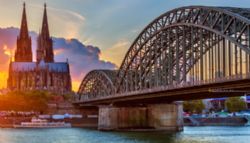 Single supplement waived on the cruise portion of select 2018 Avalon Waterways Europe river cruises
When you book by April 24, 2018
Are you a solo traveler who prefers the privacy of your own stateroom? Experienced travelers agree that an Avalon Waterways river cruise is the most enjoyable & hassle-free way to discover & explore the sights.
And now, when you book by April 24, 2018, we'll waive the single supplement on select
...

You've always forged your own path...with your own distinct perspective of looking at the world. Avalon Waterways presents a river cruise experience with your unique style in mind-offering expansive views and wider perspectives. With river cruising's only Open-Air BalconySM, these wall-to-wall, floor-to-ceiling windows open wider than any other in the industry, blurring the line between outside and in, forming a spacious seating area for six, and creating an open invitation to disc
...
Multiple itineraries available